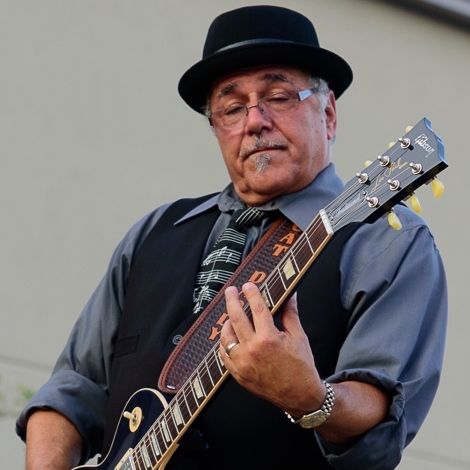 "Cat Daddy"
Guitar, Vocals
"Johnny B"
Harmonica, Flute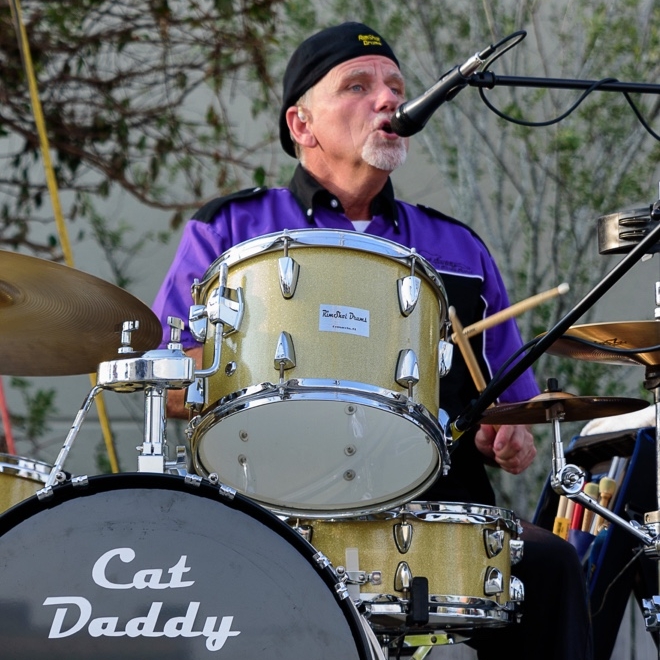 "Drummer Dude"
Drums, Vocals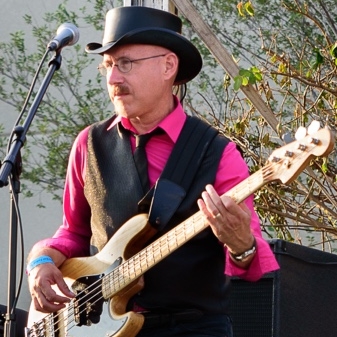 Our newest CD release
"Can't Catch A Break"
LIVE AT SEVILLE QUARTER
11-20-17
Biography
Jim "Cat Daddy" Richmond and Ed Hattabaugh formed a power trio in
1996 called Insidious. In 2000, they changed the band's name to Cat
Daddy to better reflect the catalog of music being played which was
more retro rock, blues and R & B. In about 2010, the band became
very involved in the Blues Society of Northwest Florida in Pensacola
which hosted live blues music and jams every Monday night. Shortly
thereafter, the band transitioned into a full-on blues band called the
Cat Daddy Blues Band. The current lineup of the Cat Daddy Blues
Band is: Jim "Cat Daddy" Richmond on guitar and vocals; Eddy Ray
"Drummer Dude" Hattabaugh on percussion and vocals; John "Johnny
B" Barksdale on the harp and flute; and Howie "Low End" Erskine on
bass. Today the Cat Daddy Blues Band is a top-rated, successful,
energetic blues band playing at numerous venues and festivals in
northwest Florida, south Alabama and south Mississippi. Musical
influences include many old blues masters such as BB, Albert and
Freddie King, Sonny Boy Williamson II, Muddy Waters, Jimmy Reed,
Bobby Blue Bland and Albert Collins; as well as more recent players
such as Stevie Ray Vaughn, Eric Clapton, Boz Skaggs, Coco
Montoya, and the Cash Box Kings. Early in 2018, the band released
its first CD (Can't Catch A Break) with 10 original songs.
The Blues is a lifestyle. It's our business, and business is good!
Jim "Cat Daddy" Richmond
Venues
- Broussards Navarre Beach and Pensacola
- Elks Lodge Pensacola Beach
- El Paso Restaurant
- Emerald Coast Beer Brewers Festival - Seville Quarter & Pensacola Beach
- Five Sisters Blues Cafe
- Foley AL BBQ & Blues Festival
- Hot Glass Cold Brew - First City Art Center
- Hub Stacey's Downtown and The Point
- KCs Sand Bar - Fort Walton Beach
- Naval Air Station Pensacola
- Olive Drop
- Paradise Bar & Grill - Pensacola Beach
- Private Parties
- Red Fish Blue Fish - Pensacola Beach
- Rocky Ds Blues & BBQ
- Seville Quarter - Lilly Marlene's & End O the Alley
- The New Malibu Lounge
- The Oar House Restaurant
-THE SHED BBQ & Blues Joint Ocean Springs MS
-Gallery Night Downtown Pensacola October 2018
23rd Annual Escambia Brewers Festival
Seville Quarter
MWR PONTOON BOAT
(Pensacola NAS)
Gallery Night Downtown Pensacola October 2018
Festivals
ESCAMBIA BREWERS FESTIVAL

FIRST CITY ARTS FESTIVAL HOT GLASS COLD BREW

BLUES & BBQ FESTIVAL FOLEY, ALABAMA

ST JOSEPHS CHURCH BLUES & BBQ
Upcoming Events
SOULFEST AT BELMONT DEVILLIERS

JUNE 8 2019

BLUES ON THE BAY

AUGUST 11 2019

EMERALD COAST BEER FESTIVAL

SEPT 6-7 2019
For booking and press inquiries, please contact
Jim
'Cat Daddy'
Richmond
at
850-418-1328
(Phone or Text)
or Email below
Web Site maintained by
Howie Erskine (Email below)
Find us on Facebook
(Cat Daddy)